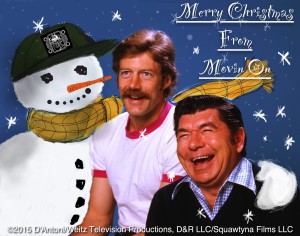 This is our 2015 Christmas card. It has been posted on Facebook since before the holiday, but as the website is new and still developing, it's arriving here a little late. It's here now for all to see. Better late than…. even later. The photo is a publicity shot taken around the time of In Tandem, the Movin' On pilot and Movie-Of-The-Week.
It's been a great year for Movin' On. We are growing rapidly, like a snowman rolling down an unplowed grade.
The website is up and running. I admit it's a little thin but I'm adding content every day.
The Facebook page has over two thousand likes.
We have started a Pinterest account.
Our first new legally licensed product is available at BigRigTees.
Episodes continue to stream on Hulu and Amazon Prime.
We promise that we will not rest. Next year we will continue providing fans with more quality products, provide more outlets to watch episodes, and to continue providing great content on the website and Facebook.
Thanks for all your support and a belated Merry Christmas and Happy Holidays.