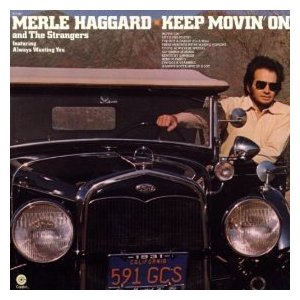 Once I knew our pilot, In Tandem, had been picked up for series, I began thinking about music. I wanted to come up with a theme song that would work with the plans we had for the show.
I had known Merle Haggard's music and thought the Bakersfield Sound…. steel guitars…. rough edged…. would be a perfect match for the show. Haggard had that sweet, earthy, gravelly sound in his voice that made me think of heavy trucks rolling through the night. I decided to contact Merle and see if he would be interested in writing and performing the title song for the series. I called him at his home and I told him what I wanted. He laughed and said he had never done anything like that…. but was intrigued enough to meet me and discuss my thoughts.
"So, where should we meet, Merle?" I asked.
"Well, Barry, I love bass fishin'…. so if you like fishin'…. why don't you come up to Bakersfield and we'll go out on my bass boat and throw some plugs at large mouth bass".
What Merle didn't know was that I loved bass fishin' and had competed in bass tournaments around California and Texas.
So, I loaded my equipment in my truck, drove to Bakersfield and met Merle and his crew. We had a beer and went to the lake. I started catching fish immediately – hot as a pistol right out of the blocks, while Merle played with the boat and sang "Okie from Muskogee" to himself. I finally decided that since he's the host, I'd better back off some…. let the star catch the fish. Well, Merle turns it up. Now, he's on fire and bass are flying into the boat. Merle's happy, so I start talking Movin' On with him. He agrees to come to Los Angeles and see the pilot. Now, I'm the one who's happy.
Merle sees the pilot and loves it. He agrees to write and perform the title song. The song is an instant hit and helps make Movin' On a success. Merle's music is a perfect complement to "Sonny"…. "Will"…. and their big, green Kenworth truck and keeps those Big Wheels Rollin'…..
– Barry