Alison Grooms played "Charley" in "Movin' On" season 2 episode "Will The Last Trucker Leaving Charlotte, Please Turn Out The Lights". In a post on our Facebook page, I marveled at the incredible ability of the unidentified five year-old child playing the part. That post got our fan community in gear and with the help of "Amazin' Bazen", Fred and Christopher, the little actress was identified and located. Barry's wife was the first to make contact with Alison. Heather has a comfortable and charming Southern accent and we thought an out-of-the-blue phone call, forty years after the show aired from Heather was less likely to creep Alison out. It turns out we need not have worried. Alison was happy to talk to us and answer every question we put to her. She even supplied us a few photos that had never been seen outside her family.
I posted the interview with Alison over three Facebook posts. Below are the photos Alison shared and the entire interview I did with Alison.
How were you able to act so natural? Did you have any training? Do you recall following instruction from the director or others?
I had no professional experience prior to this. Though my mother says, "it just came naturally to me", I owe her many thanks for her time spent and dedication in helping me with this early start to my years of acting. Mom said I listened well, but she did too. We forever remembered all the valuable direction that came from the crew, director and cast after every take and every rehearsal. I do recall hearing from the director that my mom was not the typical "stage mom"… she stayed out of the way and let me do my thing. It came "naturally" because cast and crew made it easy!
You were five years old, yes?
Yes, I was five years old when I auditioned but was 6 years old at the time of filming. My mother does remember the director being concerned about my young age in this large role.
You were so bold, so calm. How did that happen? What were you thinking?
It was the environment the cast and crew created that made my performance go well. In addition, my mom's dedication to rehearsing the lines with me made me very comfortable in front of the camera.
How did get the job?
A neighbor dared Mom to take me to audition! I had no experience but Mom thought it would be fun to see how a TV audition works. She grabbed a school picture of me, a deck of cards, and we headed downtown. I remember sitting in a large room with many other girls waiting to be seen. My mother recalls most of the other girls had portfolios and composites, so she just treated it as a neat experience, a fun afternoon taking part in the selection process. She did not prepare me for the audition since she was unaware of what to expect. What she did tell me was to, "just be myself".  When we got the next few call backs, I remember how excited she was but I did not realize the magnitude of the follow up calls. Finally, we were notified I got the part and we got to work!
Who cared for you on set?
My mother and grandmother were with me for most of the filming. At night, my Dad and Mom would go over the next day's lines and I remember rehearsing in my dressing room a lot. On set I felt like I had even more "Moms", as the ladies whose characters worked at the truck-stop were extremely nice and generous with their help.
Do you remember Barry Weitz, Claude Akins, Frank Converse or the director?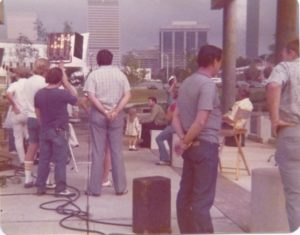 I remember all of them! They created such a fun (but professional) atmosphere and made me feel very comfortable. Claude Akins gave me a gold bangle with the inscription "Movin' On"  which I still have today. Claude and Frank were very protective of me and I remember that if any of the actors or the crew used a bad word they had to pay a penalty. I also remember getting a toy "Movin' On" truck.
How did you feel around the trucks? Were you impressed? Did you sit behind the wheel? Blow the horn?
The trucks were intimidating, there were so many buttons and knobs. I was fascinated by the sleeping cabin. I couldn't believe people really slept in a truck. I did get to sit in the "Movin' On" Kenworth, though the steering wheel was too big for me to be able to see anything over it. The scene where the truck is stolen while I sleep and I then have to wake up and try to blow

the horn made me nervous because  "a bad guy" was driving and I knew the horn would be loud if I pulled it. Another time, Claude Akins, Frank Converse and I were acting like we were driving when we weren't really moving at all. The truck was completely covered in a black drape and I could not believe the number of men physically shaking the truck to make it look like we were moving. I felt like I might mess up my lines or miss a cue because I was mesmerized by the logistics of it all.
Do you have other memories or stories of being on set or what it was like?
It is amazing how many memories I still have of being on set more than 40 years later. I remember I got to hold a kitten much of the time (the kitten was part of a segment in the episode). My dressing room was very "fancy". There was food available anytime you wanted to eat and I had my very own director's chair to sit in. I felt like a princess.
Did you do any acting afterward? Community Theater? Any wish that you had continued acting?
This opportunity led me to further jobs. I signed with several talent agencies and my jobs included national commercials, voice overs, and print ads – working with people like Peter Graves and Nancy Sullivan. Disney's Mouseketeers wanted me but my parents decided against moving to California. I'm told they pursued me quite persistently. Imagine where that could have led! "Movin' On" was an exciting start and my first great experience in acting. I am truly blessed to have been provided the opportunity.
If you have recently watched the episode, what do you think of it and yourself? What were your kids reactions?
It all came back to me. I even recall some things I said while filming that were not in the script. I was afraid I would get in trouble but my "ad-libs" ended up in the show. In one scene Claude Akins was carrying me, walking downtown, and I said, "It's raining." I said, "please" and "thank you" a few times when it was not in the script. My parents obviously taught me manners well. I also remember when I said the line, "Grits give me gas." Everyone thought it was very funny but I did not understand. Mom had to explain the phrase to me. I recall the shower scene was confusing because I could not understand why I wasn't really going to get a shower when people kept telling me to take a shower! My children were thrilled to see their five year-old Mom performing on a real TV show. And they especially like the memories I shared about the experience.