This year's Christmas Greeting included our Christmas card plus a plug for newly available "Movin' On" DVD sets.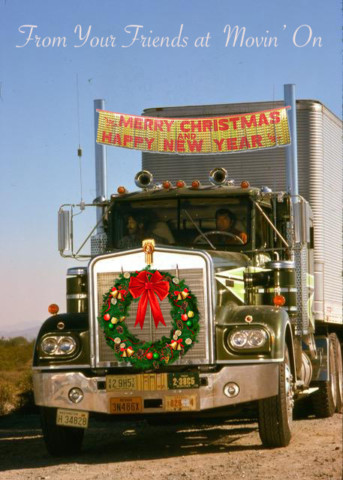 Merry Christmas & Happy New Year to all of our "Movin' On" family
Thank you for making 2017 the best year yet for the Movin' On revival. Your love and dedication is truly remarkable. This year, with your help we've been able to provide even more ways for fans to see our vintage programs. In addition to streaming options; Amazon Prime, Hulu, Yahoo, and Youtube, we now offer fans the chance to own the entire series with the first ever high quality, remastered DVDs.
Is there a trucker on your Christmas list? Show your love and appreciation with the gift that says: Truckers Rule! Movin' On's Will and Sonny epitomize the spirit of the road and the belief that the men and women of the trucking community are heroes, always willing to lend a hand when it's needed most.
Season One features guest stars: Michael J. Pollard, Mackenzie Phillips, Janet Leigh, Frank Gorshin, Tina Louise, John Ritter, Clint Howard, and Jeff Conaway!
Season Two introduces Art Metrano and Rosie Grier as Moose and Benjy and includes the episode, "The Elephant Story" starring Anna Mae the elephant!
Thanks to everyone for a great year!