On The Radio
Barry and I appeared on Sirius/XM Radio Road Dog channel's Freewheelin' with Meredith Ochs and Chris T. I was fortunate to be in studio and met the co-hosts and staff. It was a fantastic experience.
Meredith, Chris, Noa, and Ash could not have been more welcoming and charming. They were genuinely interested in the show. Chris remembered watching as a child. Meredith and Chris kept us on air almost a full hour and asked great questions. We had the chance to talk to several truckers who called in from the road. Every one of them had fond memories of the show and expressed thanks to Barry for creating a TV show that spoke to them. Most of the truckers insist that Movin' On motivated them to get into the trucking business and is cause of their life-long love of trucks.
Barry and I had a blast!
Click here to hear the full interview. Thanks Freewheelin'!!
Barry Weitz At The Southern Classic Truck Show
A result of appearing on Freewheelin' with Meredith and Chris was that we heard that the original, restored Movin' On Kenworth was to be at Brad Wike's Southern Truck Show in Lincolnton NC. What luck! Barry happened to be only 40-minutes away in Charlotte.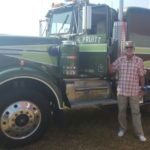 Barry showed up unannounced at the show on Brad's farm. Once Brad realized that the man standing before him was the creator of Movin' On he couldn't contain himself. He escorted Barry all around the show, introducing him to everyone including Robb Mariani, the creator of American Trucker on the Speed Channel. Robb was as floored as Brad had been. He could not believe he was shaking hands with the man who had created one of his favorite TV shows; the man who to a large part was responsible for his love of trucks and his career as a trucker and television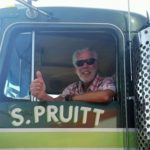 producer.
Brad and Robb then led Barry over to the big green Kenworth. Paul Sagehorn, who restored the truck, had the same reaction as everyone else. It was like magic. Could they really be speaking with one of their heroes? Paul had Barry autograph the sign he carries with the truck. Then Barry climbed up into the cab. His huge grin and big thumbs up don't tell the whole story.
Barry was very moved. He had to force back a few tears. Anyone would have under the circumstances. It's a rare day that a man understands that his work has meaning. One almost never meets the people and hears their stories about how they were affected by what you did. It's an emotional moment most of us never experience. If a tear or two had appeared in the corner of one of Barry's eyes, I think we would all understand.